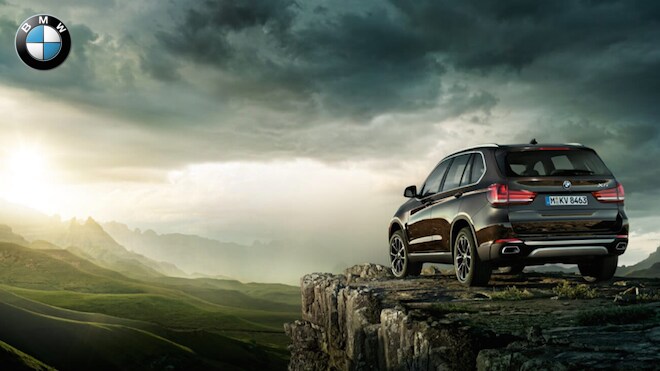 BMW of Oyster Bay
Active Luxury in the BMW X5
When you're looking for an athletic feeling from behind the wheel of a vehicle that's the right size, you need to see our team at BMW of Oyster Bay to take a look at the 2018 BMW X5.  This can be the perfect SUV for your driving needs around Long Island, NY when you're ready for active luxury.
How Active Can the X5 Feel?
When you see this midsize SUV on our lot and you open the doors, take a look around, and even check out some of the features offered in the X5, you'll get some of the feeling of the enjoyment you can have with this vehicle, but you need to do more.  In order to truly understand the
BMW X5
, you need to take a test drive with our team and feel the excitement and the fun offered.  This is a vehicle that feels more like a sports sedan than an SUV. That's why we love to call this vehicle and others "Sport Active Vehicles" to remind you this is an active and fun luxury model to drive.
Giving You More for the Drive
Every year we see a variety of updates that make it easier for you to have the driving experience you want on the road.  The 2018 version of the BMW X5 is offered with new wheel options and a revised interface for the iDrive navigation system. Let our team at BMW of Oyster Bay show you around the X5 so that you can have this as the right vehicle for your daily ride on Long Island, NY.  
Tons of Choices in the BMW X5
BMW has done an excellent job of making it easier for you to have a vehicle that will work right for you.  They bring you a wide selection of powertrains to ensure you'll be able to drive away from our dealership with the X5 that suits you best.  You can choose anything from a plug-in hybrid on up to the X5 M with its powerful and active turbocharged V8 engine under the hood to make sure you have the power and results you desire.
How Can You Find the Right X5?
This question is an easy one; come in and see our team at BMW of Oyster Bay today and let one of our friendly and expert sales specialists assist you with the right X5 for you.  This vehicle is packed with luxury features, offers you the comfort you want, and can elevate your drive with a variety of power and technology options. 
Imagine the driving experience you'll have in Long Island, NY when you choose the X5 from our BMW team.  Now that you can picture it; come in and pick out the right X5 for you and drive it home today.